Quicksilver Exhausts
The Creative Workshop

Official North America Quicksilver Heritage Exhaust Supplier
We are delighted to announce an exciting new partnership with Quicksilver Exhausts to supply 'Heritage' exhaust systems throughout North America.
This partnership will bring a resource base of over 3200 patterns dating back to 1902 to the North American market.
The company
QuickSilver has been manufacturing in England since 1973 and over the last 44 years have produced exhaust parts and systems for just about all the classic Ferrari, Maserati & Lamborghini models (as well as MGB, Jaguar, Alfa Romeo, Aston Martin, Lancia, Fiat and countless others).

QuickSilver has collected exhaust patterns for just about every variation of exhaust extant – OEM, ANSA, Abarth and many other systems for early and late model cars - and undoubtedly has the widest range of original exhaust patterns in the world.

Quicksilver is an ISO9001 certified manufacturer and utilizes both state of the art CNC mandrel bending on Addison DB76 Databend machines or traditional methods by press bending on a Ben Pearson Tubemaster machine - whereby the tubes are completely packed with dry silver sand and the "solid" tubes are bent cold.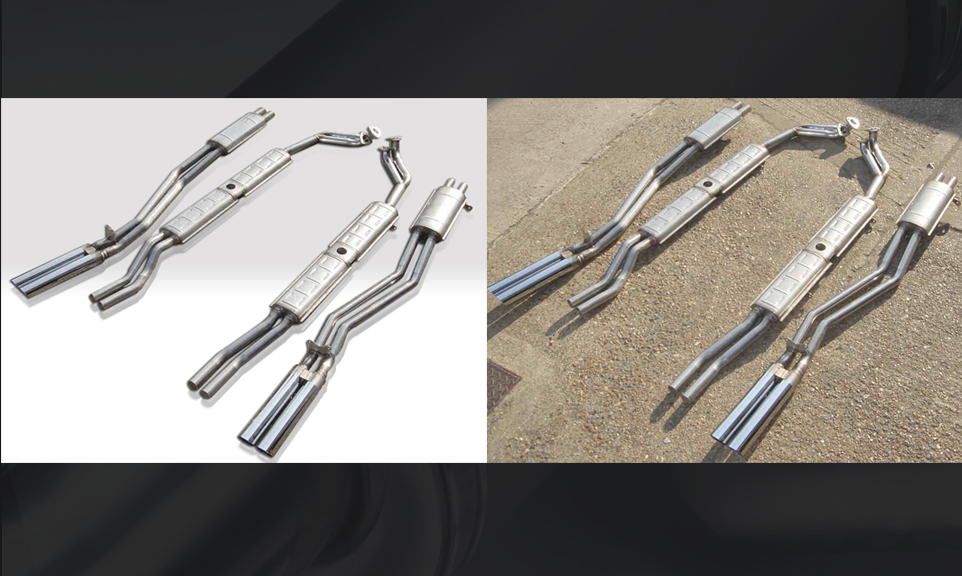 Capabilities
In addition to top concours standards for original exhaust re-creation in mild steel, we have the ability to recreate any exhaust in Stainless, Titanium and Inconel, as well as modifying the exhaust note and/or backpressure to your specification – especially useful for racing applications. Systems can also be ordered with different tail-pipe designs and polished mufflers/pipes.

In the event you have a unique system or a system we do not have a pattern for, we can replicate a completely scratch built system by using original parts as a pattern or from detailed drawings. Contact us if you need assistance in the creation of a custom system.
Info
Out of stock systems manufactured within 14 days and custom systems within 21 days
Fedex shipping next day to the East coast and 2-3 days to the West coast. Cost is usually $100 anywhere in the USA
Ship to Creative for pickup and/or installation
Contact us for all orders, inquires or to schedule an appointment for installation or pattern making
Phone: 954-920-3303 (EST)
Email: quicksilver@TheCreativeWorkshop.com
View full album